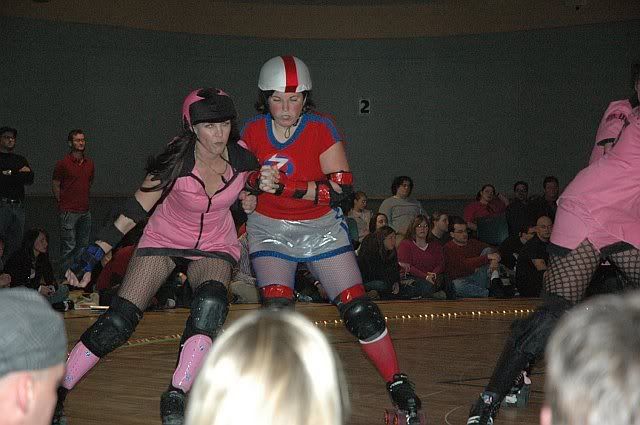 So Saturday, December 9th was the Big Day.
My Derby Debut.
The day that I had been dreaming of since February 21st.
I spent much of the day reminiscing about how far we had all come. Those first few weeks of practice were pretty sad--lots of falling for no apparent reason, water breaks every five minutes, shin splints, uncertainty, drama, and so on. It took the league awhile to get the business end rolling smoothly. Once we formed teams, things really started to shape up.
However, my team, The Legion of Zoom, continued to struggle. We had some serious injuries right off the bat. We had to fire our coach. We had a handful of girls leave for various reasons. Luckily we were able to replace them, but we were still seen as the underdogs by pretty much the whole league. That was okay. By December 9th we were a well-oiled machine. One of our previously injured skaters, Whorecules, had morphed into a kickass coach, our newbies had proven to be quick learners (not to mention tough), and amazingly all 13 of us were injury free. We fully expected to take the rink by storm, disabusing everyone of the notion that we were at all lacking in any area.
Once the reminiscing was done, I spent the rest of day looking for a place that serves sushi before 5pm and deciding whether to wear red or blue fishnets under my silver hot pants.
At the bout, the Z-Girls (as the Legion of Zoom likes to be called) got off to a great start. We had secretly choreographed an entrance unlike any other team that involved us ripping off white buttondowns and ties, Clark Kent style, to reveal our sparkly, never before seen uniforms. Our intro went off without a hitch and we quickly won the fans over.
As the lights dimmed and we started our first jam, I was totally focused on doing everything I could to stop the other team's jammer from scoring while simultaneously doing everything I could to help our jammer. As pivot, it is my job to set the pace of the pack, and with my adrenaline pumping I know I had us all going way too fast. I had no idea where my friends and family were sitting or what the announcer was saying, I just skated and pushed, skated and pushed. The PrissKillas immediately got a lead on us and it seemed like we spent the whole first period playing catch up. My whole body was on fire and I could barely breathe, but I didn't want to stop. I gave some hard hits and took quite a few. I fell down more in the first period than I have all year.
But I kept getting back up.
That's the most amazing thing about derby. The more you fall, the easier it is to get back up. Your body just gets used to it. In the beginning a fall might leave me sore for weeks, or at least give me a nasty bruise. Not anymore. I had really gotten to a point where I didn't fear falling down or getting injured. I felt strong and in control like I did when I was eighteen and the captain of my soccer team.
By the third and last period we were down by 15 or 20 or 30 (I don't think anyone knew for sure) points. We had spent our twenty minute break mentally preparing ourselves to get out there and close the gap. We knew that we could do it and we were ready to give it our all. Two minutes before returning to the floor, Judge Booty took me aside as team captain and informed me that Machine Gun Kelly had three major fouls from the first two periods and was being ejected. It was a total kick in the gut. Machine Gun Kelly is our top scoring jammer. The three majors rule had just been instituted by our refs after the first bout (where the rule was five). I tried arguing, but it was useless. I had to tell Whorecules and the team just as we were leaving the locker room. It wasn't good.
A few minutes into the third period Judge Booty called me over again to say that both Envie and Transam (two of our best blockers) were in danger of being ejected if either of them got another foul. As they sat in the penalty box, I gave them a stern lecture and then once again had to break the bad news to Whorecules. We were all starting to panic a little, but we didn't give up--not even when Envie was ejected a few minutes later. On my next time out, I stayed focused on winning despite being exhausted and somewhat demoralized. (I wanted us to be 30 points ahead!)
As I skated around the bend, I felt someone bump me when I wasn't looking. Before I could see who it was, I heard my leg snap. I looked down to see my ankle and foot swing out from under me at a very unnatural angle, and then I was down.
"FUUUUUUUUUUUUUUUUCK!" I screamed as I pounded my fist on the floor.
I knew that I wasn't getting back up.
to be continued...